We love sharing healthy recipes that will give you an eyesight boost! This colourful salad is a great holiday side dish and can liven up your leftover meals as well. Carrots are full of eye-healthy beta-carotene and also contain significant amounts of fibre, potassium and vitamin C. Other ingredients provide eye nutrients like zinc, lutein and protein (if you add the chickpeas). Orange juice and cumin add lively notes to this tasty salad. Also, take a look at this article to delve deeper into which foods are good for your eyes.
Tangy Carrot Salad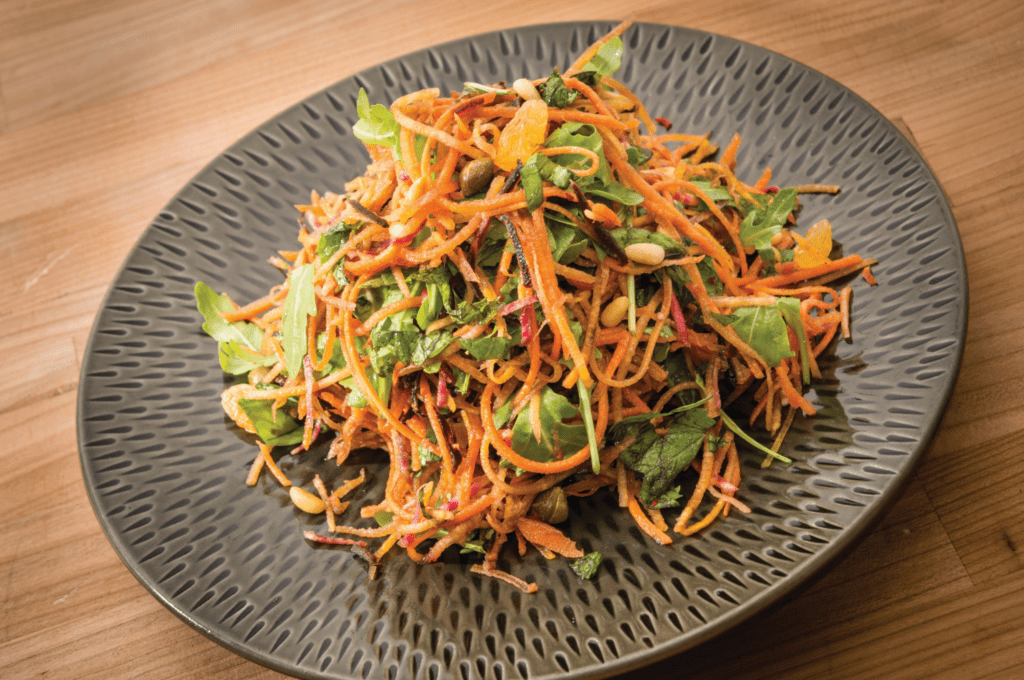 Ingredients
8 large carrots
1/2 cup pine nuts, sunflower or pumpkin seeds
1-1/2 cups rocket or romaine lettuce, chopped
1/2 cup dried cranberries, cherries or golden raisins
Dressing
1/3 cup fresh orange juice
2 Tbsp lime juice
3 Tbsp extra-virgin olive oil
1 tsp ground cumin
1/4 tsp cayenne pepper
salt and pepper to taste
Optional add-ins:
1/4 cup pitted dates, chopped small
1/4 cup canned beets, drained and julienned
1/2 cup canned chickpeas, drained
Method
Toast the nuts or seeds in a dry skillet over medium heat for 2 or 3 minutes, until golden brown (don't let them burn). Salt lightly if desired, remove from pan and let cool. You can either grate the carrots or make long ribbons with a vegetable spiraliser or peeler. Place in a large bowl with the lettuce, dried fruit, and any other add-ins you choose. Mix well. In a small bowl, mix together the dressing ingredients. Pour over salad in large bowl and toss. Sprinkle the toasted nuts or seeds over the top, and serve.
Source: www.allaboutvision.com/recipes/
Are you due for an eye test?
Eating healthy is only one piece of the puzzle when it comes to looking after our eyes. Having an eye examination every 2 years is essential for maintaining healthy sight because it allows us to monitor any changes that may occur in your vision.