This yummy honey soy salmon and veggie stir-fry by Kidgredients is a fantastic mid-week meal for the whole family to enjoy! It's also jam-packed with omega-3 fatty acids EPA and DHA which are especially important for your family's eye health – as well as being known to reduce dry eye symptoms.
Honey soy salmon and veggie stir-fry recipe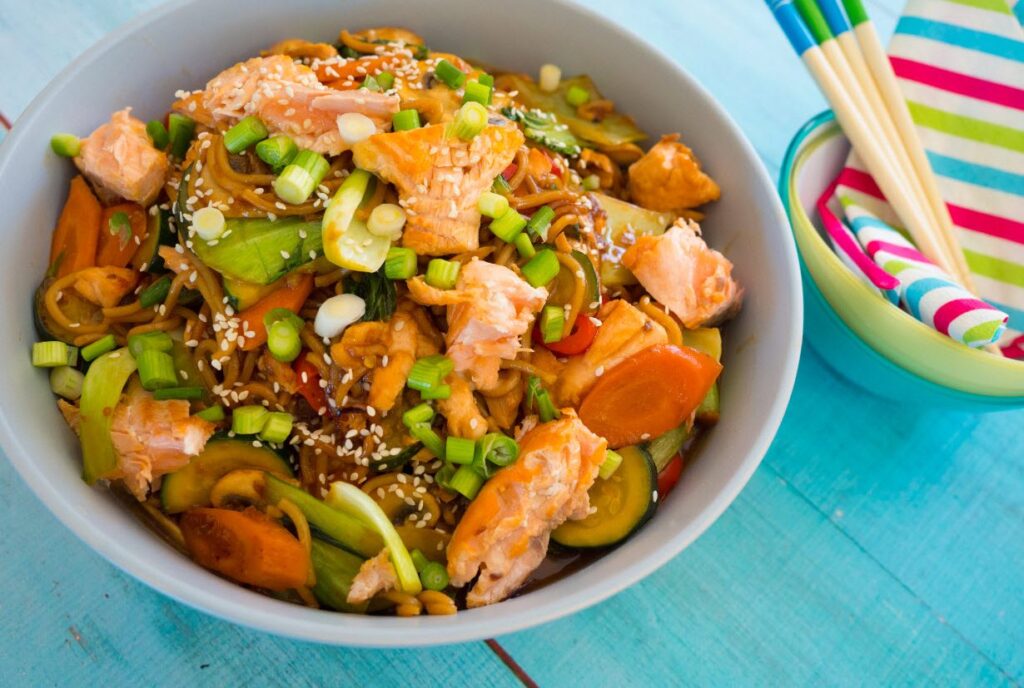 Prep time 10 minutes | Cook time 15 minutes
INGREDIENTS

300 grams fresh Tassal salmon, skin off
½ red capsicum
1 bunch bok choy
1 zucchini
2 carrots
wholegrain hokkien noodles 200g
3 tbsps vege oil
1/3 cup soy sauce
¼ cup honey
1 clove garlic
2 tbsps sesame seeds
3 spring onions, thinly sliced

METHOD
Place the noodles in a bowl of boiling water and allow to sit for 5 minutes. Drain and put aside.
Combine the garlic, soy sauce and honey in a jug and whisk to combine.
Preheat the oil in a wok over high heat.
Thinly slice the zucchini, carrot and capsicum.
Chop the bok choy into 2cm wide pieces.
Fry the salmon for 3 minutes on each side. Remove to a plate.
Add the veggies and noodles to the wok.
Add the sauce to the wok, and stirfry for 6 minutes over high heat.
Flake the salmon into pieces with a fork.
Put the salmon pieces into the wok and coat with the sauce.
Sprinkle with sesame seeds and spring onions
Source: https://kidgredients.com.au/honey-soy-salmon-and-veggie-stirfry/
We often think about eating healthy as a means to feeling and looking good – but did you know that just like other parts of our bodies, our eyes favor specific nutrients in order to function at their best? Try this recipe and let us know what you think!